USA TODAY Sports' Nick McCarvel discusses Maria Sharapova's two0year ban for testing positive for the banned substance meldonium at the Australian Open.

Maria Sharapova speaks to the media announcing a failed drug test after the Australian Open during a press conference at The LA Hotel Downtown.(Photo: Jayne Kamin-Oncea, USA TODAY Sports)
Maria Sharapova appealed her two-year suspension for the use of a banned drug to the Court of Arbitration for Sport on Tuesday.
The appeal to CAS was expected after the Russian tennis star's ban was announced last week by the International Tennis Federation. Sharapova tested positive for the newly banned substance, meldonium, twice, including an in-competition test at the Australian Open.
"Ms. Sharapova submits that the period of ineligibility should be eliminated, or in the alternative, reduced," CAS said in a news release.
Sharapova was granted an expedited appeal and a decision will be rendered by July 18. CAS said that it hasn't been determined whether a hearing will take place where Sharapova would present her case to the tribunal.
The arbitration process is confidential and no further statements would be released by CAS until the the process is final.
Maria Sharapova in pictures
Posted!
A link has been posted to your Facebook feed.
Maria Sharapova lost to Serena Williams in the quarterfinals of Wimbledon in January 2016. 
Susan Mullane, USA TODAY Sports
Maria Sharapova reacts during her match against Vitalia Diatchenko on Day four of the French Open at Roland Garros in 2015. 
Susan Mullane, USA TODAY Sports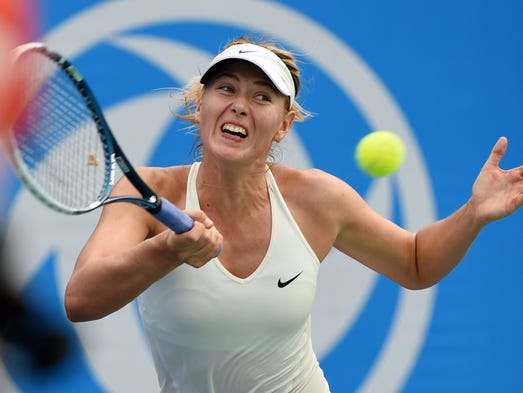 Maria Sharapova hits a return during her match against Timea Bacsinszky at the Wuhan Open. 
Greg Baker, AFP/Getty Images
Chinese fans cheer Russia's Maria Sharapova (foreground) after she defeated compatriot Svetlana Kuznetsova at the Wuhan Open tennis tournament in Wuhan, China. 
Greg Baker, AFP/Getty Images
Caroline Wozniacki (DEN) celebrates recording match point in against Maria Sharapova (RUS) on day seven of the 2014 U.S. Open. 
Susan Mullane, USA TODAY Sports
Maria Sharapova reacts after beating Sabine Lisicki on day five of the 2014 U.S. Open tennis tournament at USTA Billie Jean King National Tennis Center. 
Robert Deutsch, USA TODAY Sports
Jun 3, 2014; Paris, France; Maria Sharapova (RUS) reacts during her match against Garbine Murguruza (ESP) on day 10 at the 2014 French Open at Roland Garros. 
Susan Mullane-USA TODAY Sports
May 26, 2014; Paris, France; Maria Sharapova (RUS) in action during her match against Ksenia Pervak (RUS) on day two at the 2014 French Open at Roland Garros. 
Susan Mullane-USA TODAY Sports
Mar 27, 2014; Miami, FL, USA; Maria Sharapova hits a backhand against Serena Williams (not pictured) on day eleven of the Sony Open at Crandon Tennis Center. 
Geoff Burke-USA TODAY Sports
Sharapova eyes a backhand during a victory May 15 against Garbine Muguruza in Rome. 
ANDREAS SOLARO AFP/Getty Images
Sharapova, during a loss to Serena Williams in the Madrid final on May 12. 
Javier Soriano, AFP/Getty Images
Sharapova fires a forehand during a victory May 16 against Sloane Stephens in Rome. 
Andreas Solaro, AFP/Getty Images
Sharapova poses with her trophy, a blue Porsche 911 Carrera 4S Cabriolet after winning the Porsche Grand Prix in Stuttgart, Germany, on April 28. 
Dennis Grombkowski Bongarts, Getty Images
Maria Sharapova of Russia defeats Li Na of China on Sunday in the final of the Porsche Grand Prix in Stuttgart, Germany. 
Daniel Maurer, AP
Maria Sharapova poses for the media next to a Porsche 911 Carrera 4 Cabriolet as she is unveiled as Porsche's new brand ambassador at the Porsche Museum on April 22, 2013 in Stuttgart, Germany. 
Alexander Hassenstein Bongart, Getty Images
Sharapova climbs out of a Porsche 911. 
Franziska Kraufmann, AFP/Getty Images
Sharapova behind the wheel of a Porsche 718 RS 60 Spyder at the Porsche Museum. 
Alexander Hassenstein Bongarts, Getty Images
Sharapova poses next to a Porsche 956 C race car after at the Porsche Museum. 
Alexander Hassenstein Bongarts, Getty Images
Maria Sharapova, shown here promoting her candy line Sugarpova in March, celebrates her 26th birthday on April 19. Here are few photos from 2013. 
Scott Barbour, Getty Images
A fist pump for Sharapova at the Sony Open. 
Steve Mitchell, USA TODAY Sports
Sharapova follows through on a forehand. 
Matthew Stockman, Getty Images
Maria Sharapova unleashes a serve. 
Mike Ehrmann, Getty Images
Sharapova from behind the baseline. 
Mike Ehrmann, Getty Images
Russia's Maria Sharapova celebrates winning a point against Italy's Sara Errani during the Sony Open tennis tournament in Key Biscayne, Fla. Sharapova advanced 7-5, 7-5. 
Al Bello, Getty Images
Now it's a party. Maria Sharapova arrives at Sony Open Player Party at JW Marriott Marquis in Miami. 
Gustavo Caballero, Getty Images
Maria Sharapova of Russia flashes a smile during a media session Tuesday at the Sony Open. 
Al Bello, Getty Images
Maria Sharapova will face Caroline Wozniacki in the BNP Paribas Open final. 
Jayne Kamin-Oncea, USA TODAY Sports
Sharapova has been writing cryptic messages on cameras this year. 
@TheGrandSlams
Maria Sharapova returns a shot to Francesca Schiavone during her second-round win Friday at Indian Wells. 
Stephen Dunn Getty Images
Sharapova is most definitely having fun with Sugarpova. 
Sugarpova
Maria Sharapova speaks on camera Wednesday during a media session at the BNP Paribas Open in Indian Wells,, Calif. 
Chris Carlson, AP
More with Sharapova from All Access Hour. 
Matthew Stockman, Getty Images
Maria Sharapova meets the media on Wednesday at the BNP Paribas Open in Indian Wells, Calif. 
Stephen Dunn, Getty Images
A pensive Sharapova. 
Stephen Dunn, Getty Images
Sharapova arrives at Crown's IMG Tennis Player's Party at Crown Towers ahead of the 2013 Australian Open. 
Graham Denholm, Getty Images
Maria Sharapova serves against Kirsten Flipkens on day seven of the 2013 Australian Open at Melbourne Park. 
Matthias Hauer/GEPA via USA TODAY Sports
Maria Sharapova dresses classy and tweets the same way. 
Chris Hyde, Getty Images
Sharapova with Roger Federer at a news conference to promote the Gillette Federer Tour in Sao Paulo, Brazil, in December 2012. 
Andre Penner, AP
Sharapova signs autographs after an exhibition match against Danish Caroline Wozniacki in Sao Paulo, Brazil, in December 2012. 
Yasuyoshi Chiba, AFP/Getty Images
Sharapova in the 2012 WTA Championships after losing in the final to Serena Williams. 
AP
Sharapova, with Victoria Azarenka of Belarus and Serena Williams of the USA at the 2012 WTA Championships. 
AP
Sharapova with Ana Ivanovic at a news conference before an exhibition match against Italy's Sara Errani and Roberta Vinci, in Milan, Italy, in November 2012. 
Antonio Calanni, AP
Sharapova takes silver in the 2012 Olympics, losing to Serena Williams in the gold-medal match. 
Mark J. Rebilas, USA TODAY Sports
Sharapova shares a laugh with Ana Ivanovic during the exhibition in Milan. 
Antonio Calanni, AP
Sharapova leads the Russian delegation during opening ceremonies at the 2012 Summer Olympics in London. 
Julio Cortez, AP
Sharapova at the 2012 U.S. Open. 
Jerry Lai, USA TODAY Sports
Sharapova at the 2012 U.S. Open. 
Robert Deutsch, USA TODAY Sports
Sharapova poses with the French Open trophy. 
Michel Euler, AP
Sharapova celebrates her victory against Sara Errani in the singles finals of the 2012 French Open. 
Susan Mullane, USA TODAY Sports
Like this topic? You may also like these photo galleries:
Autoplay
Show Thumbnails
Show Captions
Last SlideNext Slide